Euroline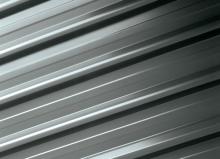 Euroline® Standing Seam
Roofing Euroline is an elegant descendant of eighteenth century standing seam roofing which, because of Steel & Tube's modern rollforming technology, is now available in continuous lengths. Euroline is available in two profiles: Battenlok and Seamlok. Each profile is available with or without a swaged pan and each has nominal widths of 300mm, 400mm and 500mm.
It is important to be aware that the nature of standing seam roofs gives rise to undulations in the wide flat pan which are not only to be expected, but are an architectural feature of the product.
NOTE:
Euroline® Doublelok is no longer available, if you have questions regarding this product please contact our Technical Helpline 0800 333 247.
Download the Euroline® brochure.
Euroline® is a registered trademark of Steel & Tube Holdings Limited.