Tube & Tube Fittings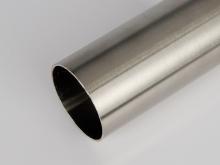 Stainless steel tube offers many advantages to the construction (handrail  tube) /food, beverage and pharmaceutical (hygienic tube) industries. Stainless steel offers many advantages to the construction/food and pharmaceutical metal user.
With high corrosion resistance, stainless can be used in rigorous environments, retaining strength at high temperatures. Furthermore its non-porous properties offers a hygienic surface, which coupled with its easy cleaning ability, makes stainless tube the primary choice for applications that require strict hygiene control, such as food and beverage processing plants. The aesthetic appearance of its polished surface is not only an added benefit,providing a modern and attractive appearance for most architectural metal applications, but adds for ease of maintenance and an improved corrosion performance, enhancing the long-term value created by stainless steel and its long useful life cycle.
Your local Steel & Tube branch will be able to talk you through the full range of Hygienic and Handrail tube we have on offer in grades 304 and 316 stainless steel in a range of grit finishes; 320 grit Satin through to 600 grit Ultra Bright, with other finishes by enquiry.
Results
- in alphabetical order:
Pages
Pages