Steel & Tube are proud to partner with Zip-Clip to offer competitive seismic solution products to the NZ market, that bring cost and labour efficiencies to our customers.
Zip-Clip is a manufacturer of high specification wire rope suspension systems based in Wales, United Kingdom. With its strong patented design, Zip-Clip internal locking mechanism, it brings speed, efficiency and ease of use to seismic wire installs projects.
---
What is a seismic brace?
A seismic wire brace connects the services that need to be restrained in a seismic event, to the structure of the building. Each Zip-Clip packet contains 2 wire braces.
Seismic bracket – to anchor the brace to a supporting structure
Wire rope – which transfers the load to the ceiling structure
Zip-Clip seismic locking device – to attach the brace to the services
Retro-fit bracket – to anchor the wire rope to the primary supports
Seismic restraint washer – to clamp the retrofit bracket to the services
PVC sleeve – for ground identification and protection
Easy to follow installation instructions.
What are the advantages of the Zip-Clip Bracing system?
Each system is colour coded which allows for easy field identification, each colour represents a different loadbearing capacity
The Patented Zip-Clip system brings speed and ease of use to installations
The seismic retro Bracket allows each seismic brace to be installed as part of new installations or can be fitted retrospectively onto existing services
Each Brace comes in 2, 3 or 5 metre options eliminating wastage on site.
How is it tested?
All Zip-Clip bracing systems have undergone static strength testing to determine brace capacity, ensuring that each kit is designed for compliance with NZS 4219. Additionally has also been seismically tested to resist cyclic loads.
When will Zip-Clip be available?
Product is now stocked in Christchurch, Wellington and Auckland.
---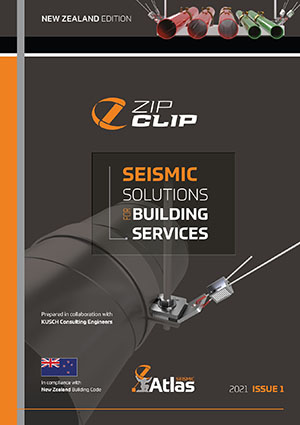 Get the full design guide.
This guide provide engineers and contractors with a more detailed overview of Zip Clip seismic system. Outlining anchoring solutions, Rod stiffening, Spacing Guidelines, general best practices and maintenance. Additionally it offers design examples of how Zip-Clip systems satisfies the new Zealand building code NZS4219.
To receive a copy of the Zip-Clip Seismic Solutions for Building Services in NZ 32 pg design guide (Print or PDF) please fill out the form below.
For more info or for technical advice call us on